Pallet Return Device
The Pallet Return Device (PRD) is a pallet handling solution or pallet return solution that many operations can benefit from, specifically distribution centers, general warehousing facilities, manufacturing facilities, food and beverage plants, and retail stores. This manual pallet stacking system works to increase the safety of your facility by reducing the risks of handling pallets with a lifting method that reduces musculoskeletal disorders. The unit also reduces the risks of falling pallets because a 'perfect' stack is less prone to tipping over and causing a potentially serious injury. A neat stack also reduces labor costs as laborers no longer have to struggle to make an acceptable stack and fork truck drivers avoid reshaping a stack of pallets when ready to be handled again.
How It Works
The Pallet Return Device (PRD) works to increase the safety of your area by reducing the risk of falling pallets, thus reducing the risk of injury.
It also saves time as workers no longer have to struggle to make a perfect stack, and forklift drivers now avoid reshaping pallet stacks.
The PRD system requires no outside source of energy (an optional Pallet Stack Present Flashing Strobe is available) and requires little continual maintenance. It has the ability to be retrofitted into nearly any current or future set-up.
The PRD system can be used with both wooden and plastic pallets at the same time.
There are no other manual pallet stackers like this on the market...
This device is truly one of a kind!
Patents: US 9,120,630, US 10,995,695, Canada 2,889,460
Features of the Pallet Return Device
A pallet carriage tilts backward that makes loading easy!
Designed to straighten each pallet that is loaded
Handles wood and plastic pallets simultaneously.
Incorporates a shock absorbing device that safely tilts the carriage when unloading.
Easy to operate hand and foot releases.
Raised receiving end that lifts the pallets from the carriage so that the carriage can be removed and reset.
Set of springs that pulls the load over the center of mass when unloading.
End stops keep the pallets in line and visible for the forklift drivers.
UHMW wear pads prevent metal on metal contact of moving parts.
A recessed, bilingual safety label that explains the proper method of use.
What People Are Saying About the PRD System
"There is an ergonomic impact to the picker, reduced time for them to build the perfect stack and reduced time for the forklift operator to pull the stack down. No one will have to worry about twisted or bad stacks getting hung up on the rack frames, eliminating a possible risk or tie off requirement. There is an added safety factor to all those below because the movement of the stack out to the edge is controlled as opposed to being gravity (or pushed) and coming to an abrupt stop. We included it as a must have for constructing these new mods so there wasn't a hard measurement for the savings, it will just be part of the overall benefit."
- Industrial engineer with a major retailer's distribution center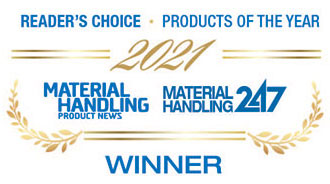 Winner of Material Handling Product News
2021 Readers' Choice award for Automated Storage