Controlled Surface Finishing
Super Finishing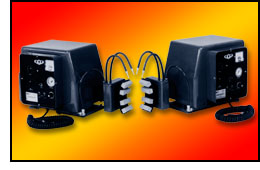 Superfinishing machines and machinery.
Finishing equipment designed for super-fine finishes.
Microfinishing and supercalendering equipment.
Precision processes.
Custom, made-to-order.
Complete design/build operations.
For jobs where tolerances are critical.
Large diameter rolls and ball valves.
The method of superfinishing produces finishes unobtainable by any other method. The name is misleading, since the normal tendency is to think that you must grind until you cannot grind any better and then use superfinishing as an extra operation to lower the finish. This is not so. Superfinishing is a method to obtain a degree of surface quality ranging from less than one micro inch to over 100 micro inches. It can be applied to ground and/or turned cylindrical, spherical and flat parts.
Superfinishing is an area contact process as contrasted with the line contract occurring by grinding with wheels or belts. Line contact processes produce deviations in roundness and profile that are not always visible to the naked eye. In superfinishing, our unit uses 24 square inches of contact area, which removes these deviations.
The surface produced by superfinishing is much harder than the surface produced by grinding, because of the low surface footage used. In grinding, the surface footage of the wheel or belt is between 4000-6000 feet per minute, whereas in superfinishing, the shaft rotation provides from 60-150 feet per minute. The high surface cutting speed in grinding heats the surface that leaves a soft, amorphous layer of fragmented metal that breaks down, greatly reducing the life and quality of the product. The process of superfinishing removes this soft metal, leaving a surface hardness equal to that of the base materials.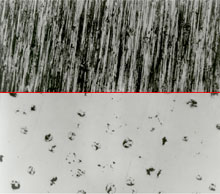 Ground vs Superfinished
Both photographs were taken of a roll ground and Superfinished to the same microfinish. In the upper photo, notice the "smearing" of the metal that occurs during a grinding process.
The lower photo shows the same roll Superfinished. The soft, amorphous layer of fragmented metal is removed. The surface is flat and highly resistant to corrosion. The imperfections you see are imperfections in the metal itself.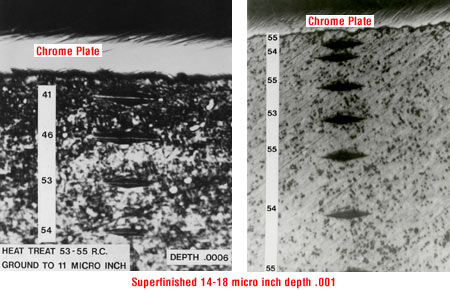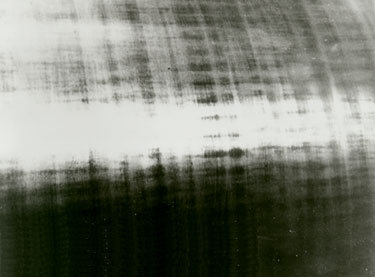 The above photo shows what a ground roll or shaft really looks like. The roll was highlighted by making a few passes with a superfinisher. Notice the barring and chatter, affecting the roundness and profiles, that is now visible to the naked eye.