Wire Label Assembly Machine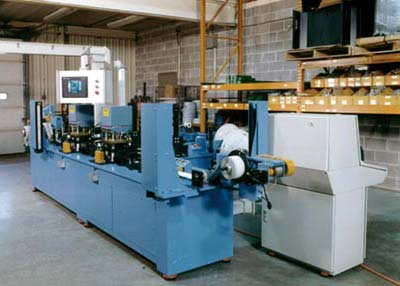 Completed Machine with operator touch screen, vision inspection system, and light curtains.
PROJECT SCOPE:
To develop a flexible manufacturing line to produce dozens of wire label part sizes, with rapid changeover and minimal tooling, along with a vision system to monitor quality, while increasing the rate of production from 90 parts per minute to 200 parts per minute.
COMPANY:
This company is an international manufacturer of wire labels.
DESCRIPTION:
System consisted of a several raw stock inputs (tubing, cardstock, tape), and combined these into the finished product. The operator would choose a part number from the touch-screen panel and load the appropriate raw material. The vision parameters, as well as all the machine functions were automatically set, allowing for rapid changeover and JIT manufacturing of customers orders.
UNIQUE FEATURES:
Inspections were made at the rate of several thousand per minute, controlling not only the quality of the product, but also the quality of the incoming raw material. Nonconforming raw material was rejected instead of being processed and then rejected.