Tree Pruning Assembly Line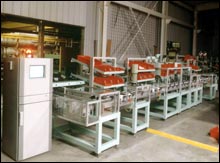 Main pallet transfer line and the three operator workstations (at red emergency stop switches).
PROJECT SCOPE:
To develop a flexible manufacturing line to produce two styles of tree pruner heads, reducing labor from seven people to three people while doubling production.
COMPANY:
This company is an international manufacturer of garden equipment and consumer products.
DESCRIPTION:
System consisted of pallets, which would shuttle from station to station. Operators would place parts into the pallets with all riveting and assembly operations done automatically. Changing pallets and a selector switch from one position to another accomplishes changeover from one product to another.
UNIQUE FEATURES:
In order to increase production rates, the pallets had a unique; cam operated clamping mechanism, which would automatically clamp upon releasing the pallet.
PROJECT DURATION:
This project lasted twenty weeks from design to installation.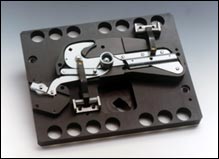 Close-up of the metal prunner head showing the finished product. Note the spring loaded automatically actuated clamps that are integral with the pallet.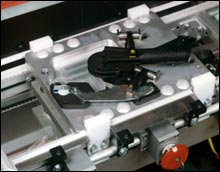 This operator workstation shows the parts for the plastic prunner head placed into the pallet, ready for release to the riveting stations.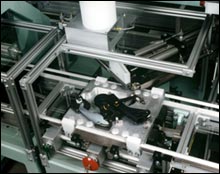 This fully automatic station feeds an actuator ball from the white hopper, down a track and inserts it into the end of the plastic prunner head, compressing the spring. The head is now ready for insertion of the blade and retaining screw.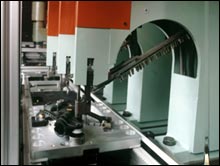 This view shows three of the four tubular riveters with automatic bowl fed riveters.