Automatic Pacifier Tester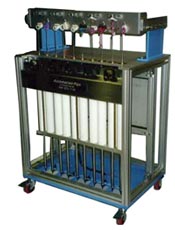 Project Scope:
To develop a testing machine for baby pacifiers that eliminated carpal tunnel problems for operators while improving the quality of the product.
Company:
This company is an international manufacturer baby products.
Description:
The system consisted of five stations for testing, with automatic, free weights being applied in a variety of directions, for a controlled amount of time.
Unique Features:
The weights were required (by standards) to be free hanging, without attachment to cylinders, pulleys, cables, etc. and traceable to national standards.