Clutch Pack Assembly Machine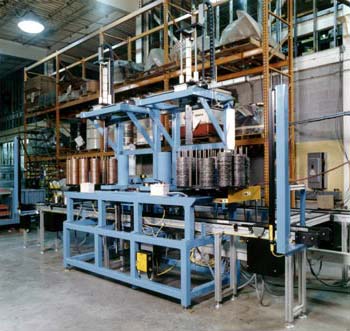 Completed machine ready for customer runoff.
PROJECT SCOPE:
To develop a flexible manufacturing line to produce two families, five different styles of clutch assemblies, reducing the amount of labor, increasing the efficiency and improving quality.
COMPANY:
This company is an international manufacturer of construction equipment.
DESCRIPTION:
System consisted of a Bosch Pallet transfer system, integrated with equipment designed and built by Automation Plus. The operator would choose a part via picture or description from the touch-screen panel and load the clutch carrier on a pallet, which would shuttle from station to station. The separator and friction plates are separated, orientated, and placed in each carrier.
UNIQUE FEATURES:
The separator plates were covered with a rust preventative that caused the plates to stick together. Some of these required heating with a bearing heater in order for the operator to separate. In some cases, a hammer was used to separate, causing damage to some of the plates. Operator errors in installing the correct number of each plates in each carrier were eliminated, while increasing production to a rate of one plate every 1.6 seconds.