Circuit Board Handling System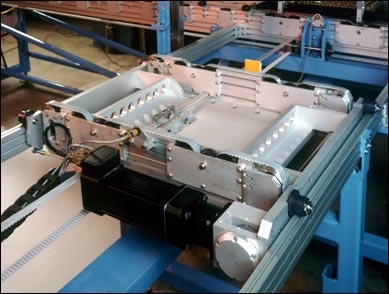 Close-up view of one of the eight circuit board transport shuttles, showing the over and under belt to allow for clearance of the grip fingers on the grip, lift and rotate mechanisms.
PROJECT SCOPE:
Develop a system to transport and track the location of large printed circuit board modules, each weighing 130 lbs., to 64 independent workstations.
COMPANY:
This company is a well-known manufacturer of large super computers.
DESCRIPTION:
This system consisted of one main conveyor servicing eight independent conveyors each of which serviced six workstations. Located on the main conveyor were four pick-and-place units that would correctly orientate the circuit board modules and place them on a shuttle that serviced each leg of the system.
UNIQUE FEATURES:
The system had to meet cleanroom specifications, which did not allow the use of any pneumatics. Twenty-four servomotors and AC frequency drives controlled all movements, including gripping functions. The system could not produce any static and motors needed to be located so as to not produce a magnetic flux harmful to the components on the circuit board modules.
PROJECT DURATION:
This project lasted sixteen weeks from design to installation.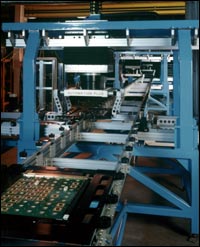 View looking down the main conveyor showing three of the four grip, lift and rotate mechanisms. These mechanisms positioned and orientated the circuit boards for correct placement on each workstation leg.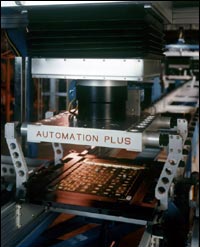 Close-up view of the grip, lift and rotate mechanisms.