Case Cutter
PROJECT SCOPE:
To develop an inline case cutting machine for a distribution center capable of opening random size boxes at a minimum rate of 1300 boxes per hour.
COMPANY:
This company is an international distributor of pharmaceutical and consumer products.
DESCRIPTION:
System consists of an in-feed and exit conveyor. Within the case cutting machine a box is measured and 4 rotary cutters cut the tops off of each box. The cutters are automatically positioned based on the dimension of the box.
UNIQUE FEATURES:
High rate of speed and long lasting cutter blade life were major requirements. Low cost blades last several weeks and have a quick change feature. Payback of less than a year is typical.
PRODUCT AVAILABILITY:
The Case Cutting Machine is available as a standard product as well as customized for a variety of variations.
Watch Video: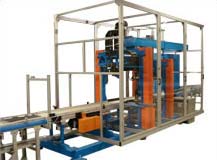 1300 boxes per hour per machine
Servo driven clamping for increased throughput
Payback of 6-12 months
Box size:

Min. 4" w x 4" l x 3" h
Max. 16" w x 27" l x 23" h

Power Requirements:

480 volt 60 amp or 220 volt 100 amp
Air: .1 cubic feet/min consumption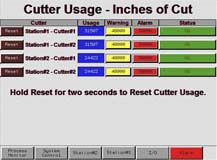 Easy-to-use touch screen controls
Touch screen allows access to all settings
Welded frame
Heavy duty components for continuous operation
2, 3, or 4 sided cuts
Sensors measuer every box, allowing complete random box opening
Cuts can be staggered to allow top to remain with box
Air conditioned electrical cabinet for long life in extreme conditions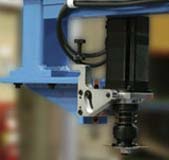 Quick release cutting head facilitates quick blade changes.
Circular, high speed, rotating blades increase time between blade changes
Heavy duty blades can be resharpened many times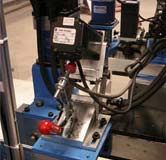 Quick release tilting cutter drives ease blade changing
Blade changing occurs in less than 30 seconds